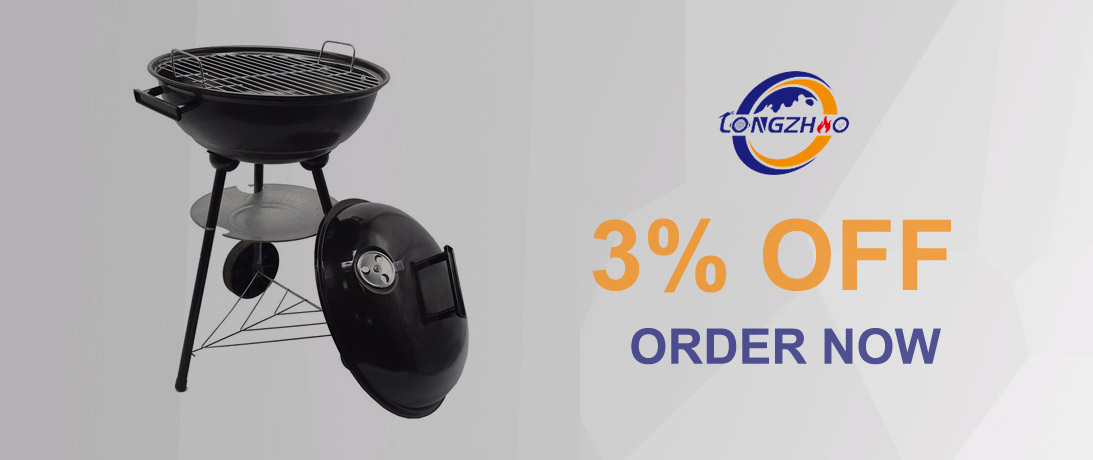 Nothing screams summertime like an excellent old-fashioned barbecue. Warm weather has constantly meant prime time for firing up those backyard BBQ grills. But today, one of our favorite national pastimes -- grilling -- is rapidly becoming a popular year-round event. A growing number of people are finding the taste-inducing ability of grilling -- the brilliant excuse to throw a hotdog-and-hamburger tailgate party.
Then comes the question: What kind of grill can better serve as a barbecue assistant? There are several different types of grills, but gas and charcoal are currently the most common. To help you choose between the two, Longzhao will use our products as examples to analyze the advantages and disadvantages of each type of grill.
Gas BBQ Grill
Gas-fired grilling has the obvious advantage of being extremely convenient. Just turn a knob, and then say hello to an exceptionally adjustable heat source. Gas grills are fueled by liquid propane kept in tanks that are refillable.
Longzhao gas grill is designed for long-lasting and unsurpassed performance that brings satisfying flavor and extremely convenience. Proudly made in China and built to last, this gas grill features commercial grade 304 series stainless steel construction, long lasting stainless cooking grids (alternatively enamel grids or Teflon grids) and heavy-duty warming rack, and highly sophisticated burners with integrated support posts for performance and durability.
This gas BBQ grill brings you the clear benefit of being extremely convenient. Simply turn a knob and the cooking temperature will quickly rise to about 350℃. Designed with a funneled grease management system with slide-out drip tray, it achieves painless cleanup. During cooking, there is no messing with briquettes, no stacking, no lighting, no smelly starter fluid and no waiting around for the coals to glow. And once dinner is over, there's no ashy mess to clean up. Return the switch to off, rub a metal brush over the grate and your clean-up time is over.
On the technical side, gas burns clean, but it doesn't impart much flavor to your grilled foods. It is not perfect at holding a steady temp, which is more easily to be affected by the weather.
Charcoal BBQ Grill
The offered range is built in the same sturdy, high-quality fashion as gas BBQ grill. It is constructed of the lasting 304 stainless steel for years of performance. The sturdy stainless steel grille will support your meal on top of warm charcoal. Air control vents can be mounted on the hood and fire box to help properly circulate smoke and aroma. Manual charcoal height adjustment and fully adjustable charcoal holding box give you complete control over cooking conditions. The one-piece, double-walled hood locks in heat and keeps you away from charcoal fumes.
The charcoal BBQ grill might not offer the same level of convenience as gas, but it does boast one benefit that stands out above all others: smoke flavor. The dry, white-hot heat of charcoal in the rugged pit will sear meat quickly, helping you create a crusty, caramelized exterior and smoky flavor. Of course, charcoal grills require more time and attention than gas, from building and igniting briquettes to waiting for coal to heat up to manage the flames, allowing you to enjoy the original simplicity.
However, charcoal is dirty to manage. It can be difficult to light; it takes a couple of minutes longer for up to temp. There may be flare-ups that may burn off the food and flare-ups might be a health threat. It's tough to tell what temp you're cooking in; the temperature can't be turned down quickly. Even if you do not give it sufficient oxygen, it may deposit soot throughout your meals. Charcoal grills seldom possess rotisseries, and there's ash to clean up after…
Nevertheless, charcoal BBQ grill is less expensive than gas grills, though the cost of charcoal will add up as its quality is improving with the changing production technique. Charcoal is also more portable than gas grills. A bag of charcoal can easily be chucked into the car and taken to the park or beach.
Both of the BBQ grills mentioned above will help you grill your gourmet. The choice is mainly based on your own situation. And they should not be defined as good or bad. It's about suitable or not. Through the above analysis, we hope that you can choose a barbecue grill that you can enjoy according to your actual needs. Don't blindly follow suit, choose the right one for yourself.
Grilling outside in the sun is one of life's great pleasures, and something Longzhao has been passionate about for 16 years. Boasting with sophisticated production equipment for mold making, steel plate stamping, stretching, wiring, and grid welding, and modern assembly lines for electroplating, electrophoresis, powder coating, painting, and assembly, we can tailor-make a wide range of BBQ grills that in compliance with the various quality standards in different countries or territories. No matter what you need - whether it's quick cooking or a large garden party - our barbecue collections are designed to make the grill fast, simple and delicious.